Stickers
Here you can compose personalized stickers and order them online.
Click on the product you want to buy and follow the further instructions on the product page.

Hoffis baby products and textiles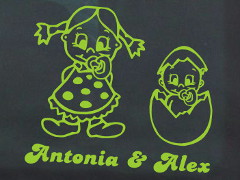 Siblings Stickers with Custom Motifs

Colored Siblings with Custom Motifs

Stickers for Brothers and Sisters

Licence Plate EU-Field Sticker

Oktoberfest sticker with motif

1a Road Sign XXL Baby Stickers
Please take a look at the products for the car, too.