Welcome to MY-BABY-SHOP®.com!
Your specialist for personalized baby stickers, layette with names, gifts for baptism and birth, as well as everything around the baby.
Baby stickers, baby textiles and personalized baby products directly from the expert for baby stickers and baby apparel with the personal touch. Click on a product you like and personalize it according to your wishes. Have fun shopping!
Latest Products

Licence Plate EU-Field Sticker
Popular Products

Hoffis baby products and textiles

Baby Baseball Shirt with Motif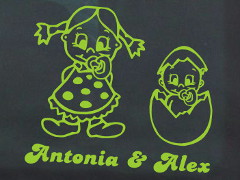 Siblings Stickers with Custom Motifs

Colored Siblings with Custom Motifs

Stickers for Brothers and Sisters

1a Road Sign XXL Baby Stickers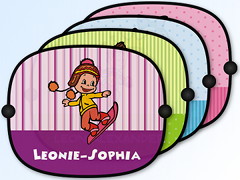 Mega-Print Sun Shade for the Car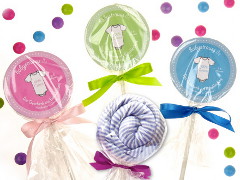 Baby Lolly - Bodysuit as Lollipop
We would be pleased about positive as well as negative feedback and suggestions, you can sign our guestbook or contact us directly.
mainshirt
With our long-standing experience with personalized textiles for babies and children we are the market leader for individually produced baby products with baby motifs in Europe. Now we use this knowledge for grown-ups as well and are looking forward to your inquiry.
We produce stag party shirts, club shirts, company shirts, school and college shirts, company textiles and shirts for your parties and events.
Visit mainshirt.net and send your inquiry now.
About us
Baby stickers of the 3. generation - the original!
MY-BABY-SHOP®.com sells personalized baby products and textiles online. The products can be composed and ordered directly in the online shop. Each product is personalized in Germany, very unique and made with love for each of our customers. A worldwide shipping is offered.
Among the personalized baby products are "Baby on Board"-stickers and name stickers, which are offered as baby stickers for cars and kid stickers for twins. All stickers may be ordered with original baby motifs, the baby's name and a text of your choice.
Additional our range of products contains printed and embroidered textiles for babys and children. The baby textiles will be printed with the name of the baby or with a funny wisecracks just as you wish. The offered baby clothing includes baby bodysuit, baby t-shirt, baby baseball shirt and bathrobe. Moreover it is possible to print or embroider baby knot hat, neckerchief, bib and hooded towel with a name of your choice.
And even for baby potties color, font and an individual text is available according to the customer's preference.
Have fun shopping!
** The term "baby stickers of the 3. generation" as developed by us is protected by the German copyright law and is the embodiment for baby stickers per se. Our baby stickers of the 3. generation are unique and will be individually produced in handcraft with loving attention to detail. Only from us you will get these originals!
Our range of products contains: Personalized baby products such as "Baby on Board"-Stickers, Baby Stickers, Kid Stickers, Dog Stickers, Twin Stickers, Name Stickers, Labels, Potties, Bibs, Hooded Towels, Baby Bathrobes, Child Bathrobes and more. Create unique gifts with a name of your choice and funny baby motifs. Baby on Tour stickers for the rear window of your car. Exclusive baby stickers for your car. Of course we can also produce the baby stickers for our customers from Spain (pegatina bebe a bordo), France (autocollant bébé à bord), the Netherlands (plakker/sticker baby aan boord), Italy (adesivo bebé a bordo) and many other countries. We are constantly extending our range of products, please visit us again in a little while.